Grattens is one of the leaders in the U.K for Home Shopping catalogues. Their main focus is on stylish, good quality women's fashion but they have a large range of other products from men's and children's fashion to electrical, home and garden and sports & outdoors products.
Grattens catalogue offer a great range of fashion items, available online, from favourite brands such as Warehouse, Morgan, Faith, Nike and Principle.
Check out style guru Nicky Hamblton-Jones offers to make you look 10 years younger!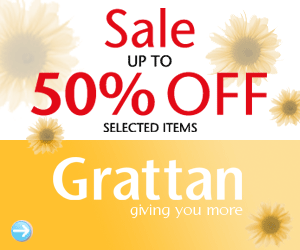 Delivery of your goods will usually be within 3 to 4 working days, next day and your choice of am/pm delivery options are also available. Grattan's free courier service is available in most areas of the UK.
£15 off your first order
Free delivery and returns
Fashion in sizes 14-30
Interest free credit available
Request a catalogue online
Shop online at the Gratten Website

If you want more information on Grattan Catalogue and its website offers and features, they can be found on the Catalogue Connection website.